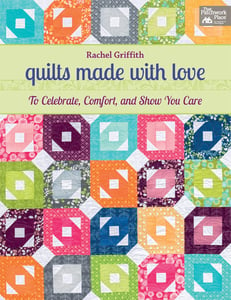 $

19.95
i'm SUPER excited to introduce y'all to my very first book!!!
quilts made with love includes 80 pages.
in addition to the actual quilt patterns, all the basics and finishing information are included.
it features a range of projects that are perfect for any level of quilter, as well as the traditional AND modern quilter alike.
all books will be signed by me (rachel), but if you would like me to personalize your inscription, just let me know in the notes to seller section at checkout.
thanks!!!
PLEASE NOTE:
books will be shipped via USPS priority flat rate shipping.
US = $5.75
Canada = $34.95
Australia = $44.95
*if your country isn't listed, i can add it per your request.
BOOKS ARE AVAILABLE FOR PREORDER.
SHIPPING IN SEPTEMBER.